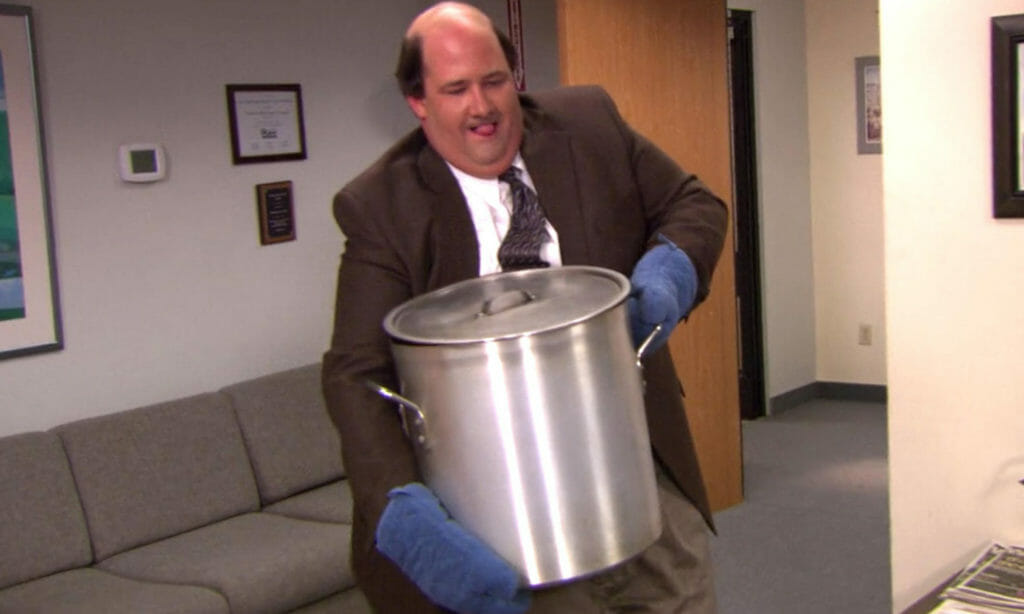 The Office is one of the best sitcoms to ever feature on American television. One of the reasons for its success are the characters. Each character in the show has a unique personality.
Kevin Malone is one of the few characters based directly on a character from the original British version of The Office. Part of the accounting department at Dunder Mifflin, he is one of the most lovable supporting characters in the show and for the same reason Kevin Malone Quotes are quite famous.
You may also like:
Andy Bernard Quotes from the The Office
Best Kevin Malone Quotes
1. "The only problem is whenever I try to make a taco, I get too excited and crush it."
2. "So, Dwight doesn't understand what a silent auction is. I guess he's the 'stupid guy' in the office, huh? Cause up 'til now, we didn't have one."
3. Erin: Angela had the baby?
Kevin: Is it black? Because that would be hilarious.
4. "At least once a year I like to bring in some of my Kevin's favorite chili. The trick is to under-cook the onions. Everybody is going to get to know each other in the pot."
5. "The people here are amazing debaters. I guess you can say they are master-baters."
6. "Me think, why waste time say lot word, when few word do trick."
7. Dwight: Excuse me, I have to run to my car, to take a dump.
Kevin: wish my car had bathroom.
8. "You think this is a great party? This cake has vegetables in it."
9. "Mini-cupcakes? As in the mini version of regular cupcakes? Which is already a mini version of cake? Honestly, where does it end with you people?"
10. "I just want to sit on the beach and eat hot dogs. That's all I've ever wanted."
11. Holly: You guys, it wasn't my fault!
Kevin: Oh nothing is ever your fault! Just like when you ate those maple candies that you brought for us!
12. "Nope it's not Ashton Kutcher, it's Kevin Malone. Equally handsome, equally smart."
13. Gabe: This is violent and offensive.
Kevin: Thank you. It really makes me self-conscious about my voice.
Gabe: It's awful [offers a tissue]
Kevin: I'm not crying.
Gabe: There's food on your face.
14. "They're making fun of Cookie Monster, I get that; but in a weird way, it's like they're making fun of me"
15. Dwight: Do more stupid faces!
Kevin: Which one? I have a lot of stupid faces.
16. "Good old Kevin. He'll do anything. Well guess what? I will not do a good job"
17. "I am enormously proud of what I did for that turtle"
18. "This is a documentary? Ohhhh. I always thought we were like specimens in a human zoo"
19. Jim: Hey Kev. How was your weekend?
Kevin: Good, I watched TV for 14 hours.
20. "I hear Angela's party will have double-fudge brownies. But it will also have Angela."
21. "After Stacey left, things did not go well for a while. And, it was hard to see.. It's just nice to win one"
22. "Sometimes I feel like everyone I work with is an idiot. And by sometimes, I mean all times. All the time."
23. "I do deserve a vacation. Sometimes batman's got to take off his cape"
24. "I like knowing that there's going to be a break. Most days I just sit and wait for the break"
25. "I have very little patience for stupidity"
26. "I got myself for Secret Santa. I was supposed to tell somebody, but I didn't."
Kevin Malone: The Office punching bag
Kevin Malone is a comically upbeat sales representative who is often seen as the office punching bag. He is played by Brian Baumgartner.
Kevin is well-meaning and tries to be a good friend to the office staff, though his attempts to help are often met with well-deserved mockery. He is well-liked among his peers, and people seem to take pity on him for his constant good-natured failures.
Kevin is the resident gambler of the office. Apart from having an affinity for betting and having a keen eye for gambling, he also likes to cook.
Kevin and Oscar are best pals. While Kevin can be considered to be the least smart, Oscar being the smartest in the room (except on one occasion when Chinese populous cities were considered) complements him greatly and the two make quite the fun team.
Kevin might not be the brightest but he sure is one of the most lovable and cute characters and consequently, a favorite of many The Office lovers.