Interstellar is a Legendary science fiction film written, directed, and produced by Christopher Nolan starring Matthew McConaughey, Anne Hathaway, Jessica Chastain, Bill Irwin, Ellen Burstyn, and Michael Caine. Interstellar quotes are very popular even today.
Let's look at some of the best Interstellar Quotes from various characters..
The best Interstellar Quotes (handpicked)
1. "Then get out there and save them. We must reach far beyond our own lifespans. we must think not as individuals but as species. we must confront the reality of interstellar travel."- Professor Brand
2. "I'm not afraid of death. I'm an old physicist.  I'm afraid of time."- Professor  Brand
3. Cooper: So how do you plan on saving the world?
Prof. Brand: We're not meant to save the world, we're meant to leave it.
4. "Do not go gentle into that good night; Old age should burn and rave at close of day. Rage, rage against the dying of the light."- Professor Brand
5. Doyle: You can't just think about your family now. You have to think bigger than that.
Cooper: I am thinking about my family and millions of other families.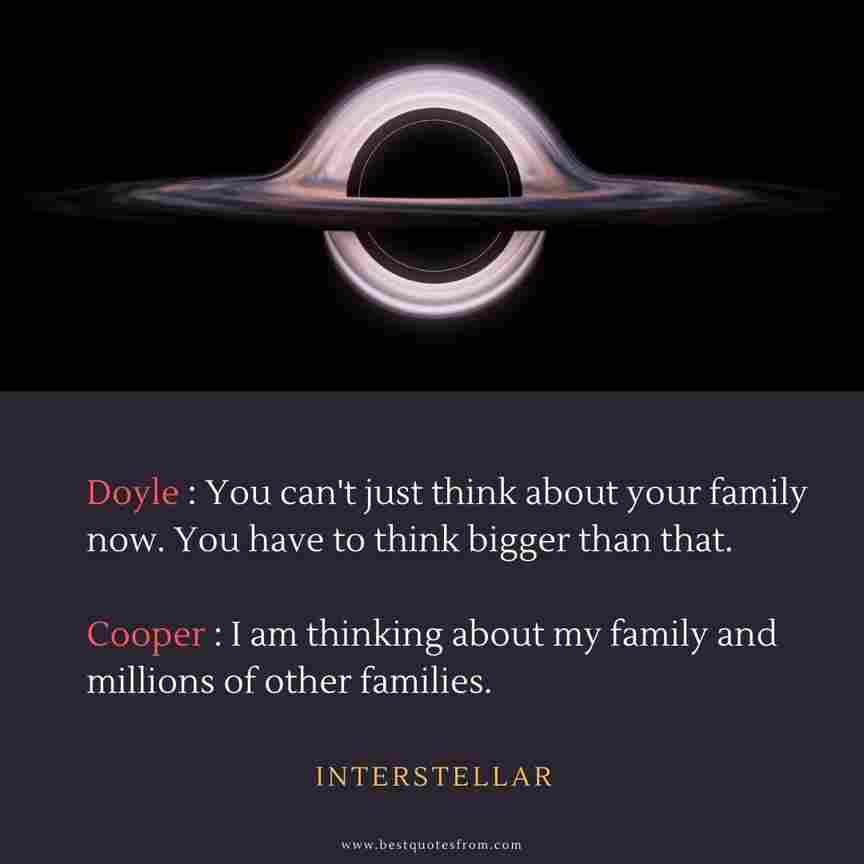 6. "Maybe by the time I get back, you and I, we might be the same age. You and me. Imagine that."- Cooper Joseph
7. "We used to look up at the sky and wonder at our place in the stars, now we just look down and worry about our place in the dirt."- Cooper Joseph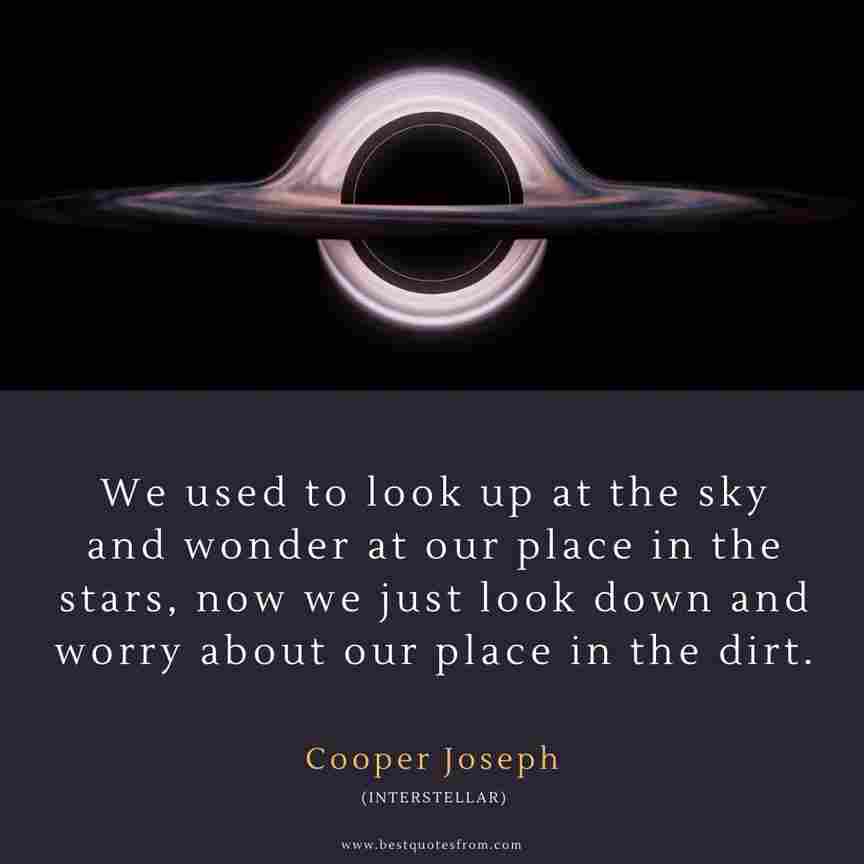 8. "We've always defined ourselves by the ability to overcome the impossible. And we count these moments. These moments when we dare to aim higher, to break barriers, to reach for the stars, to make the unknown known. We count these moments as our proudest achievements… And that our greatest accomplishments cannot be behind us, because our destiny lies above us."- Cooper Joseph
9. "This world's a treasure, but it's been telling us to leave for a while now."- Cooper Joseph
10. "Newton's third law. You gotta leave something behind."- Cooper Joseph
11. Murph: Why did you and mom name me after something that's bad?
Cooper: Well, we didn't.
Murph: Murphy's Law?
Cooper: Murphy's Law doesn't mean that something bad will happen. It means that whatever can happen will happen.
12. Cooper: Let me ask you something. Dr. Brand and Edmunds, they close?
TARS: I wouldn't know.
Cooper: Is that '90% wouldn't know' or '10% wouldn't know'?
TARS: I also have a discretion setting Cooper.
Cooper: Ah. But not a poker-face slick.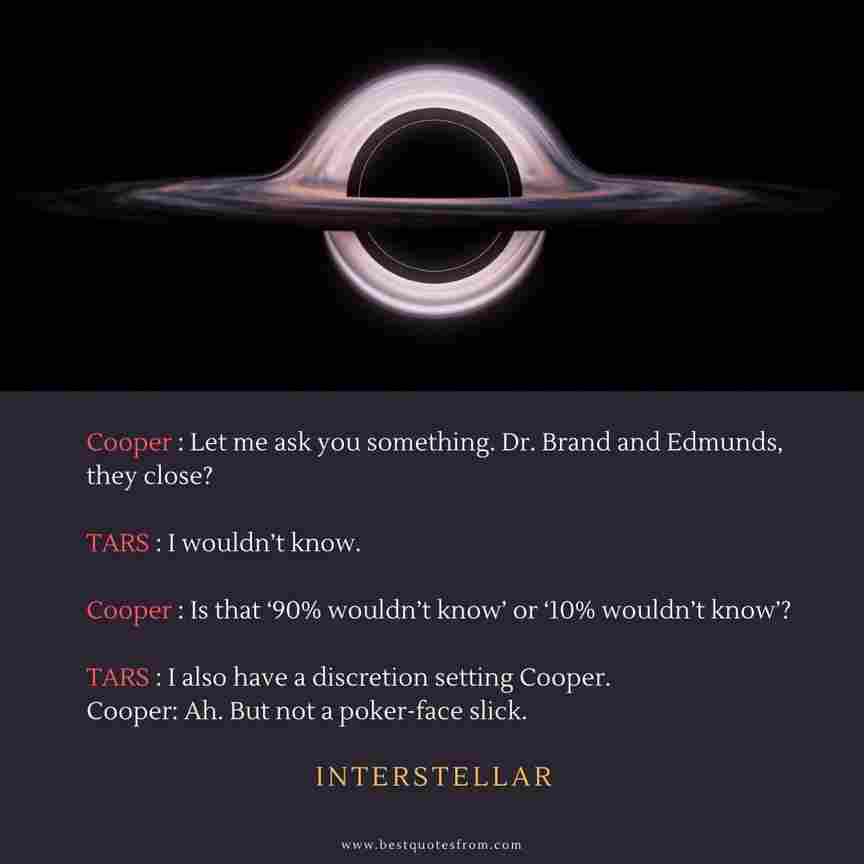 13. "Parents are the ghosts of their children's future. I can't be your ghost anymore Murph."- Cooper Joseph
14. Cooper: Humour, 75%.
TARS: Confirmed. Self destruct in T minus 10,9…
Cooper: Let's make that 60%.
TARS: 60%, confirmed. Knock Knock.
Cooper: You want 55%?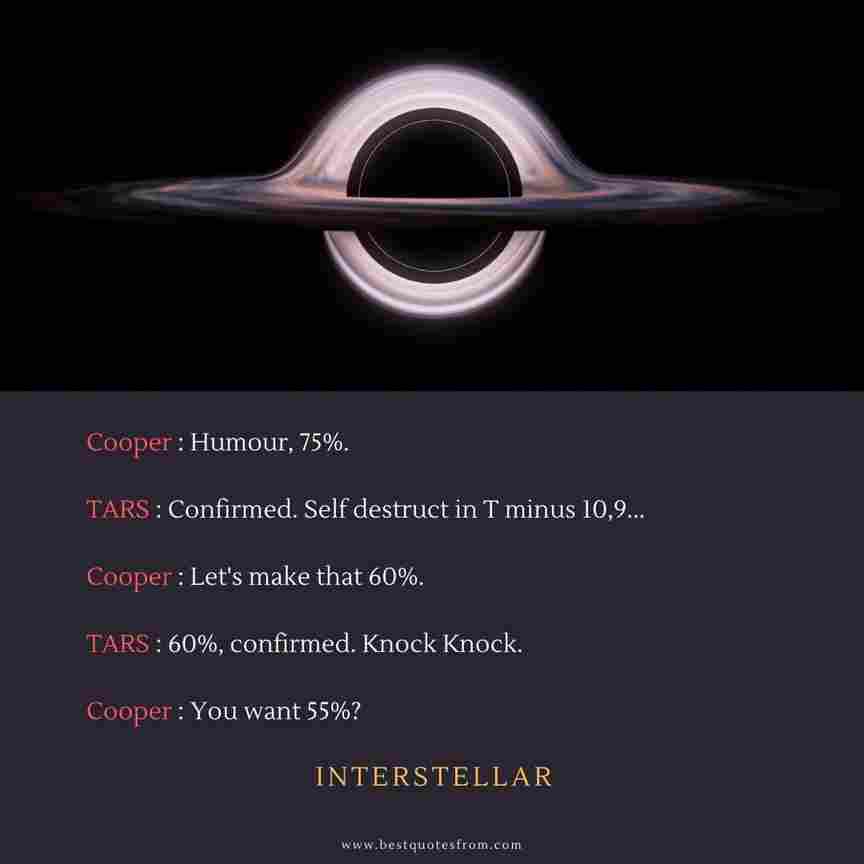 15. CASE: It's not possible.
Cooper: No. It's necessary.
16. "Mankind was born on Earth. It was never meant to die here."- Cooper Joseph
17. Cooper: You're ruling my son out for college now? The kid's fifteen.
Principal: Tom's score simply isn't high enough.
Cooper: What's your waistline? 32? With, what, a 33 inseam?
Principal: I'm not sure I see what you're getting at.
Cooper: You're telling me it takes two numbers to measure your own ass but only one to measure my son's future?
18. "You might have to decide between seeing your children again and the future of the human race."- Amelia Brand
19. "Love is the one thing that transcends time and space. Maybe we should trust that, even if we cannot understand it."- Amelia Brand
20. Romilly: What was that?
Amelia: First handshake.
21. "Maybe we've spent too long trying to figure this out with theory."- Amelia Brand
22. "Accident is the first building block of evolution."- Amelia Brand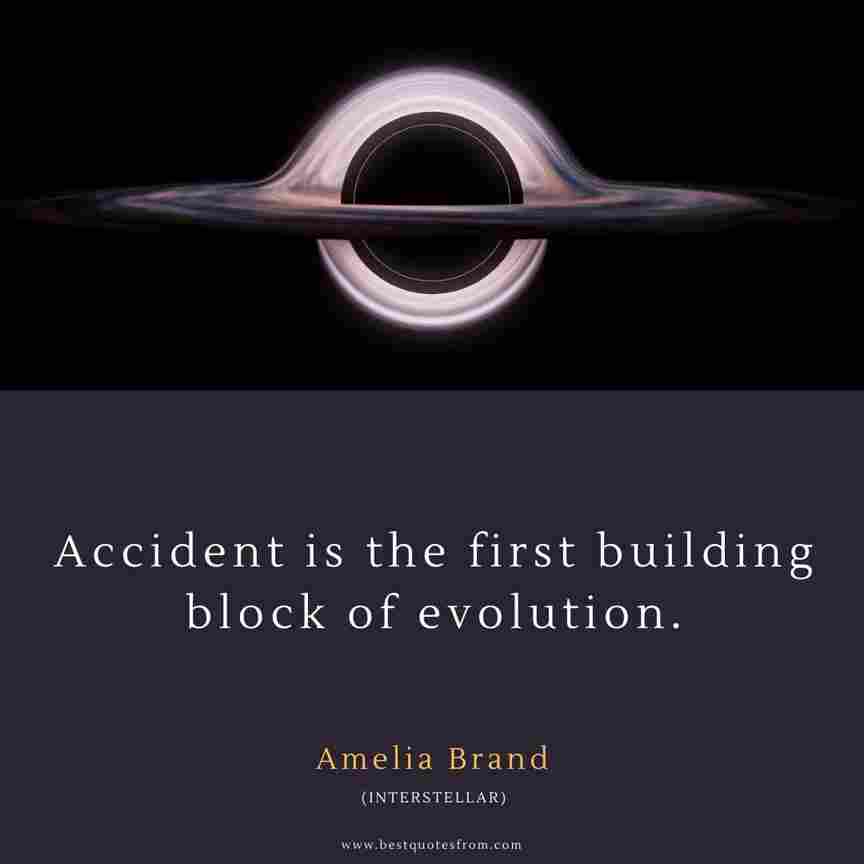 23. "We have attachments. But even without a family, I can promise you that, that yearning to be with other people is powerful. That emotion is the foundation, of what makes us human."- Dr. Mann
24. "A machine doesn't improvise well because you cannot program a fear of death. Our survival instinct is our greatest source of inspiration."- Dr. Mann
25. "Brand. She's out there. Setting up camp. Alone, in a strange galaxy. Maybe right now, she's settling in for the long nap. By the light of our new sun. In our new home."- Murphy Cooper
26. "Today is my birthday. And it's a special one because you once told me that when you came back, we might be the same age. Well, now I'm the same age that you were when you left…and it'd be really great if you come back soon."- Murphy Cooper
27. "Six billion people, just imagine that. and every last one of them trying to have it all. This world is not so bad. you are the one who does not belong. Born forty years too early…my daughter knew it, God bless her. And your kids know it."- Donald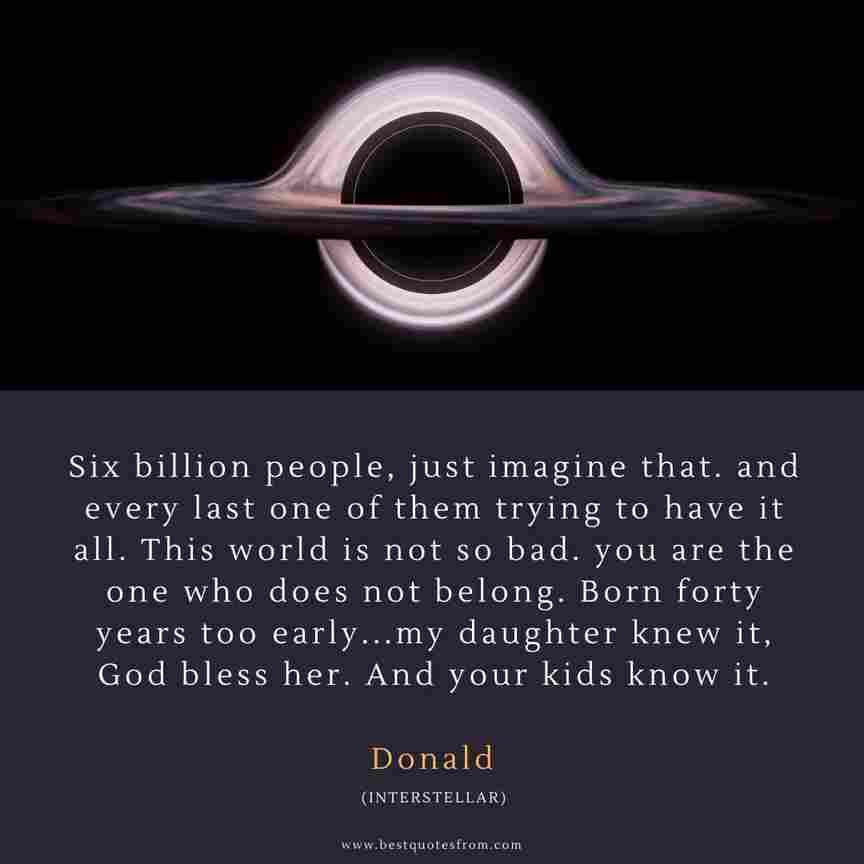 28. TARS: I have a cue light I can use to show you when I am joking if you like."
Cooper: That might help.
TARS: Yeah, you can use it to find your way back to the ship after I blow you out the airlock. [cue light flashes]
29. Cooper: Everybody ready to say goodbye to our Solar System?
Romilly: To our galaxy.
30. Cooper: What's your trust setting, TARS?
TARS: Lower than yours, apparently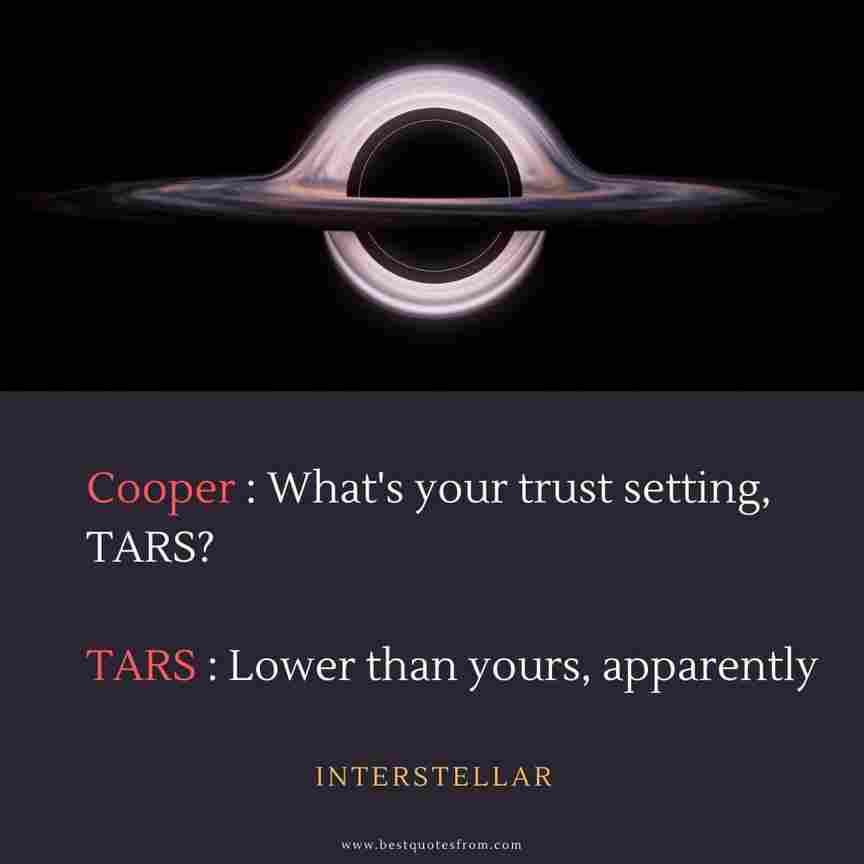 31. Prof. Brand: We need the bravest humans to find us a new home.
Cooper: But the nearest star is over a thousand years away.
Doyle: Hence the bravery.
32. Cooper: You ready CASE?
CASE: Yep.
Cooper: You don't say much do you?
CASE: TARS talks plenty for both of us.
33. Cooper: Hey TARS, what's your honesty parameter?
TARS: 90%.
Cooper: 90%?
TARS: Absolute honesty is not always the most diplomatic nor the safest form of communication with emotional beings.
Cooper: Okay, 90 percent it is.
34. Doyle: We have a mission.
Cooper: Yeah, and our mission is to find a planet that can habitat the people living on Earth right now. Okay? Plan A does not work if the people on Earth are dead by the time we pull it off.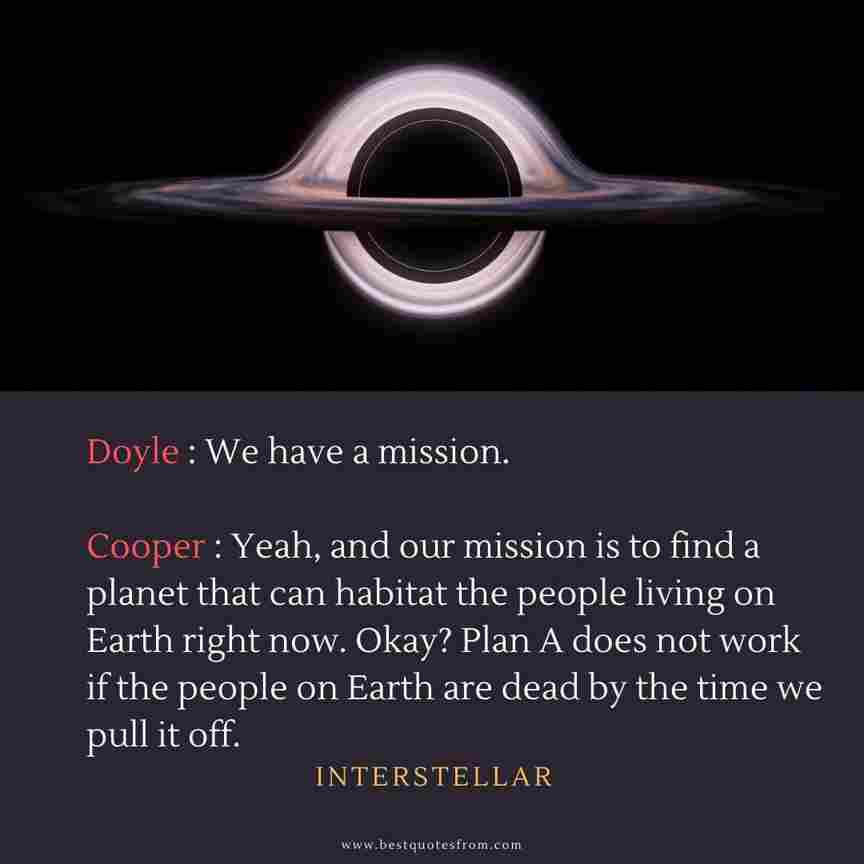 35. Murph: [as Cooper holds his now elderly daughter's hands] Nobody believed me, but I knew you'd come back.
Cooper: How?
Murph: …Because my dad promised me.
36. [as the Endurance is about to enter the wormhole]
Cooper: Any trick to this, Doyle?
Doyle: No one knows.
Cooper: Well, the others made it, right?
Doyle: …at least some of them.
[Cooper glares at Doyle]
Interesting facts about Interstellar
Christopher Nolan and Matthew McConaughey had different opinions about each other because they had never worked before. Nolan was expecting McConaughey to be laid back, and McConaughey believed Nolan would want everything perfect. When they arrived on the set, they found out both were different personalities.
Only for the movie Interstellar, a new CGI technology was developed to draw wormholes using mathematical equations. Another fantastic fact about Interstellar is that the original script was a completely different film.
Green screens were hardly utilized in the movie because the director wanted to give actors something to respond to. Instead, visual Effects were designed before the scene's shooting, and they were playing while filming that particular scene.
Before Christopher Nolan signed on to be the director of Interstellar and transformed it into a major-budget production, Steven Spielberg was attached to lead the project.
When filming the scene on the ice-covered planet in Iceland, Anne Hathaway was diagnosed with hypothermia due to her astronaut suit being uncovered as she swam in the cold water.